What Better Way to Celebrate Than A Healthy Dose of Self-Love?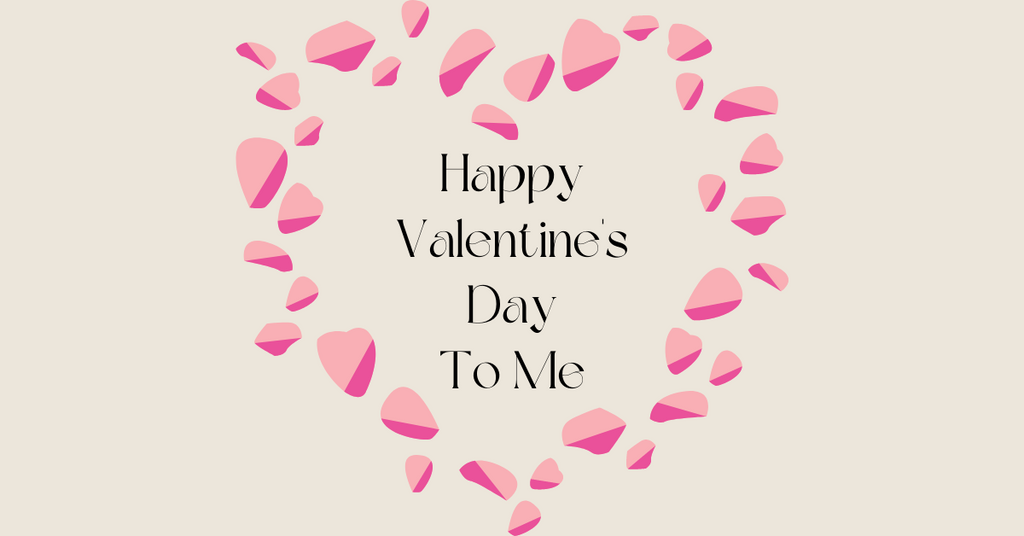 When it comes to Valentine's Day, one of three things is true.  You either love it, hate it, or ignore it altogether.  But one thing is for sure, if you're into Valentine's Day, you know it's all about sharing the love.  And for those of us who partake, it's a day that we dedicate to celebrating all kinds of love.  Many of us choose to celebrate February 14th by exchanging expressions of our love for others - whether it be a partner or a mother or a friend.  So as the day draws near, sales for greeting cards, flowers and chocolate skyrocket – not to mention the close to four billion dollars Americans spend on Valentine's Day jewelry.  It's become a big, commercial event for sure, but it's up to us if we choose to remember that the reason for this particular season is love.
Whether we're a table for one or a table for two, the way we love ourselves is foundational to our sense of well-being, our mental and physical health, and our ability to love others in a way that is healthy and brings us joy.  So, no matter how you feel about Valentine's Day, let's all focus on the same thing this year:  loving ourselves.  It's important, because self-love, or the lack thereof, is at the core of everything.
Self-love means different things to different people and we all practice it in our own ways.  But at its root, self-love means that we prioritize our well-being and happiness, because we accept and love ourselves.  Definitely a case of easier said than done and likely most of us are permanent works in progress, but fortunately perfection does not apply. Like with any other relationship, self-love will have some ups and downs and twists and turns along the way.
Here's a list of some ways that we can practice self-love from Jeffrey Borenstein, M.D.  (He's the president and CEO of the Brain & Behavior Research Foundation.):
Talk to and about yourself with love
Prioritize yourself
Give yourself a break from self-judgement
Trust yourself
Be true to yourself
Be nice to yourself
Set healthy boundaries
Forgive yourself when you aren't being true or nice to yourself
This isn't a comprehensive list, but you get the idea.  
But let's get back to celebrating.  Here are some fun ways to commemorate the day of love (or any day) that focus on your number one.
Ask yourself out on a date
Lunch and a movie or maybe a trip to your favorite boutique.  There's also the spa, a bike ride, or a stroll around the park.  It's your date, so it's up to you.
Indulge your guilty pleasure
We all have that favorite movie or Netflix series that we love but are a little embarrassed to admit to, right?  Watch that. Preferably with popcorn.
Tap into your creative self
Relaxing.  Gratifying.  Stimulating.  That's what can happen when we create.
Play with yourself
Yep.  That's exactly how I meant it.  Loving ourselves sexually can certainly feel like a celebration and there's not a better time to indulge in some alone time enjoying the intimate side of self-love.
Read a chapter from that book you've been meaning to get to
Get comfortable, put your feet up and lose yourself in the pages of a masterfully written book.
Be your own DJ
Music's effect is powerful.  It can lift our spirts when we listen to the songs that make us smile and tap our feet.  It can transport us to another place and time and inspire us.  With the right playlist, you might find yourself dancing the night away.
Eat your favorite foods
Love your body with nourishment that's comforting and yummy.  And I sincerely hope that there will be chocolate.
Dance like no one is watching
When we move our bodies, all kinds of positive things result.  Endorphins energize and uplift our spirits and every part of our bodies benefit from physical movement.  Close the blinds if it helps you to lose your inhibition, then move like you're the lead in a Broadway musical.
Two words:  bubble bath
Light a candle, put on some of your favorite music, and add bubbles to hot water.  Then soak yourself in sweet-smelling liquid warmth and try not to turn into a prune.
Or come up with something of your own.  Just remember that the point is to celebrate and the goal is to do something special and loving for yourself. After all, the focus of this Valentine's Day is YOU.  Happy happy!