Stressed Out About the Holidays? Keep Reading.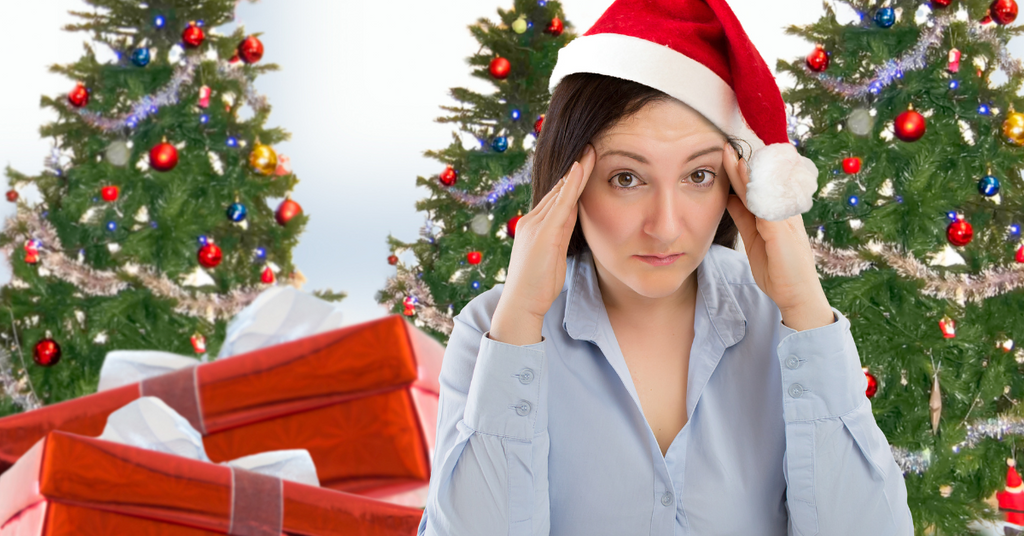 Let's be honest, it can be overwhelming and not all that joyful when the hustle bustle shifts into high gear.  After all, it's no small task to uphold traditions, plan holiday festivities, and shop until we drop – all while baking sugar cookies to a  holiday music soundtrack that's been playing since the day after Halloween.  And lest we forget, the real reason for this particular season is holiday perfection.   Every year I consider opting out of the compulsory spending spree that we call the holidays and every year I'm reminded that Christmas is, in fact, mandatory.
Maybe (hopefully!) this isn't you.  Maybe you experience the peace, joy, and love that the season is supposed to deliver.  If so, you've probably already stopped reading.  But for the rest of us, let's talk strategy so that, we too, can enjoy some holiday cheer.

First Things First
Don't forget your self-care. I can sense you rolling your eyes - but stay with me.  When I say self-care, I'm really talking about doing the things that make us feel good - and healthy, like getting enough sleep, breathing deeply, eating nutritious food, and moving our bodies to keep things balanced in a way that also supports mental health.  Taking care of ourselves is one of the most powerful tools we have when it comes to taming stress. 

When it comes to eating, it can be helpful to visualize what we'll feel like after we indulge in that yummy holiday treat - before we chew and swallow.  I go directly to yes, please and I wish I hadn't, if I don't take a moment to think about the relationship between what I'm eating now and how I'm feeling later. 


It's All About Expectations
Learning to manage expectations is huge – all year round, but particularly during the holidays when they tend to be high. It's all supposed to be perfect . . . magical.  It's a lot of pressure to deliver on the promises of the season.
If holiday magic, for you, involves an actual miracle, it may be a good time to practice some expectation management.  Maybe it can be redefined to be a bit more realistic and obtainable.  Here are some examples of magic redefined.
You set a budget and stick to it.
The concept of taking shortcuts feels less like holiday sacrilege and more like genius.
Your self-care routines are not playing second fiddle to the festivities.
After weeks of resenting the constant barrage of holiday music, you find yourself humming along and walking with a holiday spring to your step.
You let go of a holiday tradition – and it felt good.
The awesomeness of your sofa the evening you spend on it after gracefully declining a party invitation. 
And remember - whether you celebrate Christmas for one day, Kwanza for seven, Hannukah for eight, or something else altogether, soon it will be over and the world will return to what it was before Black Friday. 
Here's more about managing holiday expectations from The American Institute of Stress.

Here are some things to consider, when it comes to holiday stress.
Accept your feelings
It's okay if it's not your favorite time of the year - better to admit it and deal with it than to ignore and pretend. Sometimes the simple act of acknowledging our feelings can ease stress and we conserve mental energy when we don't spend it pretending that we love something that we dread.


In with the new
Holiday traditions can be wonderful and they can bring us joy. But not always. Sometimes we hold on, because they're, well, traditions.  But we can make changes based on what we really have time for and focusing on the things that bring us joy.  It's okay if this year doesn't look like last year.


Just say no
It can feel counterintuitive to decline invitations during the holidays. It can make us feel guilty and anti-social. But in reality, saying "no" is a tool we can use to help keep stress from becoming unhealthy.  Pick and choose wisely when it comes to RSVPing and be honest about what you have time for and what you really want to do. 


 Volunteer
There are many volunteer opportunities during the holidays. Toy drives and food banks, sponsoring families in need, making care packages for veterans, even lending a hand at soup kitchens and homeless shelters - the list goes on. But regardless of the specifics, it's a fact that helping others is uplifting to the one doing the helping.  It takes us out of our heads and away from our own stress when we focus on someone else who is in need.


And don't forget to:
Avoid perfection
Resist over-spending
Avoid becoming overwhelmed by setting a schedule and writing it down
Plan time with family based on what makes you feel good
Limit social media or avoid it altogether, if you find yourself comparing yourself to the perfection it often portrays
Focus on gratitude
Celebrate with friends
Most of us experience stress of some kind at some point during the holiday season.  It's almost inevitable.  But we can be strategic about avoiding unhealthy stress and minimizing its impact.  When we do, we create some of our own holiday magic.
Dealing with loss or illness or being far from family (or too close to family) are other issues that can be at play during this time.  If your stress is unmanageable or you're experiencing depression, consider reaching out to someone you trust or talking to a medical professional who can advise you and recommend treatment, if needed.
Here are some resources put together by Online Counseling Programs:  50 Digital Resources to Help You Manage Your Mental Health During the Holidays


Resources:
Mayo Clinic, Stress, Depression and the Holidays:  Tips For Coping, Mayo Clinic Staff, December 11, 2020
Verywellmind, Managing the Seemingly Inevitable Holiday Season Stress, Elizabeth Scott, Ph.D., January 15, 2021
Psychology Today, 7 Tips for Lower Holiday Stress, Gabriel Young, Ph.D., October 26, 2021
Psych Central, Hate the Holidays?  Here Are 8 Ways to Cope and Find Joy This Year, Morgan Mandriota, December 8, 2021