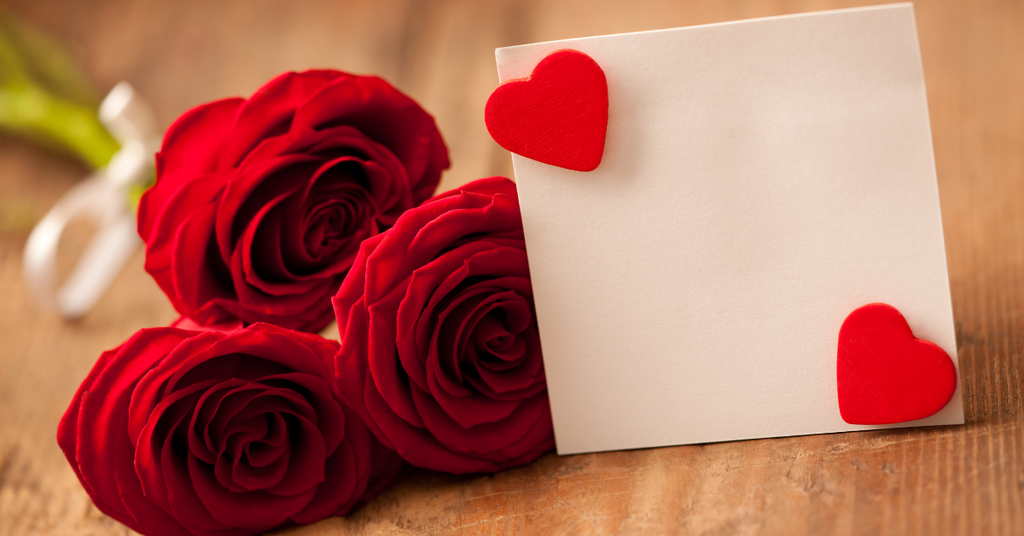 Valentine's Day is here again.  It's time to celebrate love OR tune it all out until tomorrow.  Whatever your pleasure, here are some facts and trivia about the day of love.
F is for Flowers
Flowers are a big part of Valentine's Day.  Nearly 250 million roses are grown to be ready for Valentine's Day and Americans buy them for their Valentines to the tune of $2 billion a year.
The red rose is believed to be the favorite flower of Venus and a true Valentine's go to.  But red is not the only game in town.  There is a rainbow of colors when it comes to roses and each has its own special meaning.  So, don't hesitate to buy that bouquet of black roses knowing that it symbolizes change and courage.  Here's the scoop on some other rose hues from Julia Thompson at Fifty Flowers.
Red roses: Love & Passion
Orange roses: Energy & Desire
Yellow roses: Friendship & Joy
Green roses: Growth & Abundance
Blue roses: Mystery & Uniqueness
Lavender roses: Wonder & Enchantment
Pink roses: Elegance & Sweetness
Peach roses: Sincerity & Gratitude
Black roses: Change & Courage
White roses: Young Love & Innocence
Ivory roses: Grace & Charm
By the way, 16% of women who purchase Valentine's flowers are buying for themselves.  What a lovely example of self-love.


C is for Candy
Would you be surprised to learn that there is a holiday tradition that is preferred over flowers by both men and women?  Well, there is, according to the National Confectioners Association, and it's candy.  Chocolate, in particular, accounting for about 75% of all Valentine's candy sales.  But not all chocolates are created equal:  caramels come in at number one followed by chocolate-covered nuts, chocolate-filled, cream-filled, and coconut. 
It was 1861, when Richard Cadbury introduced the first heart-shaped box of chocolates.  I'm sure he'd be pleased to know that these days more than 36 million boxes are sold each year.  That's 58 million pounds of chocolate!
J is for Jewelry
Jewelry is not the top Valentine's seller in terms of volume, but it reigns supreme when it comes to price tags.  The National Retail Federation tracks these things and reports $4.1 billion in jewelry sales in 2021.  That's a lot of bling by anybody's measure!
B is for Billion
Americans spent $23.9 billion on Valentine's gifts last year and are expected to spend even more this year.  And not everyone is buying for a romantic interest or significant other.  Nowadays, people are buying for friends, kids, pets – you name it.
Interestingly, men are spending more than women.  As in twice as much, according to 1-800-Flowers.
P is for Pets
Who knew that pets were big winners on the day of love?  Well, the National Retail Federation for one.  According to them, $751.3 million was spent on dogs and cats in 2020.  That breaks down to 27.6 million American households including Fido in their Valentine gift giving while 17.1 million purchased for the feline in their lives.
V is for Valentine's
Hallmark started selling Valentine's Day cards in the very early 1900s.  Fast forward to now and the Hallmark company sells some 145 million cards every year.  And that doesn't include the decorated bags full of Valentine's exchanged in classrooms. 
Teachers receive the most Valentine's Day cards, followed by children, mothers, and wives.
Who's Celebrating
The National Retail Federation conducted a survey in 2019 to find out who's celebrating Valentine's Day.  Almost half of the people surveyed (49%) said they would not be celebrating the big day.  However, many in that group said they would still do something special to mark the day like treating themselves to a small gift or maybe even a night out with friends and family.  (That sounds like celebrating to me!)
Seeing Red
Psychologists at the University of Rochester found that men view women wearing red – or even standing in front of a red background – were "significantly more attractive" and sexually desirable than women wearing different colors.  And they found the same phenomenon at play with women looking at men. 
Whether you send a card, buy a piece of jewelry, eat chocolate or pick a bouquet, Valentine's Day comes down to love.  That means romantic love for some, but for others February 14th is the perfect time to appreciate all the kinds of love we have in our lives.  Hard to see a downside to that!
Happy Valentine's Day 2023!