The Other V Word Volume II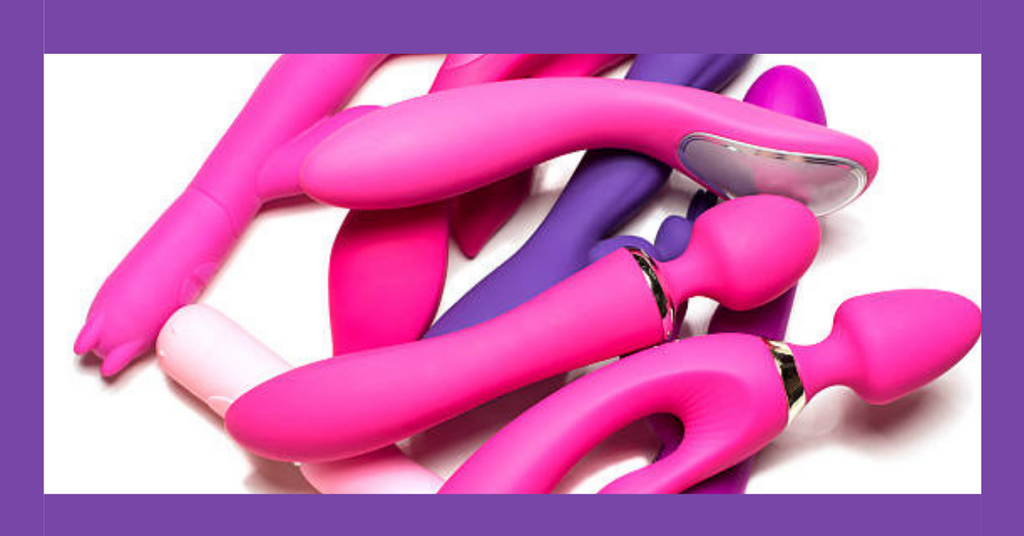 We've discussed the pros and cons of vibrator ownership in a previous post - The Other V Word Volume I - and I'm thinking we're all on the same page at this point.  So let's move on to some more practical matters.  Of course, we'll have a little fun as we navigate through these Frequently Asked Questions.
What style of vibrator should I buy?
Excellent question. 
Let's start by talking about the types of vibrators there are to choose from.  Each type is designed for a different experience – vaginal (internal) vibrators; bullet & clitoral (external) vibrators; combination vibrators and g-spot vibrators.  If you're new to the world of vibrators, the choices can be overwhelming.  
So take a deep breath and clear your mind – and really think about what you like.  What makes you feel good?  That should be the driver of your selection process.  If you really have no idea what to choose, start with something simple and try a straightforward looking vibrator (and by straightforward I mean phallic-shaped).  These styles can be for vaginal and clitoral stimulation, so it's versatile and will get you started.
There are some good buying guides out there.  Here's a link to one of them:
A Beginner's Guide to Every Kind of Vibrator on the Market, written by Lindsey Lanquist for SheKnows What Are the Different Types of Vibrators? – SheKnows
How much should I spend on a vibrator?
You can spend as little as $10.00 and as much as $1,000 or more for a vibrator.  Most people settle for something between $20 and $200, but you can buy a really good one for less than $100.
Should I buy a battery-powered or rechargeable vibrator?
There are pros and cons for both.  I'll lay them out and you decide what works best for you.
The thing about battery-operated vibrators is that you don't have to wait for them to recharge.  They're also easy to travel with, if you're so inclined – just pop out the batteries and you'll never have to worry about your travel companion inadvertently turning on at an inopportune moment.  On the other hand, you may develop a heavy dependence on batteries.
Forget the batteries, if you select a rechargeable style.  The charges on these vibrators tend to last a long time and you'll have to purchase exactly zero batteries to operate it; however, you'll probably pay more.  A word of warning:  you'll be very angry with yourself if you forget to plug in your rechargeable vibrator in enough time to fully charge before go time.  I've heard that you only make that mistake once.
Does size matter?
Yes!  And so does vibration patterns, speed and intensity.  More choices that all come down to personal preference.  Focus on what you like and look for a style with multiple settings for the features you think you'll like.  Some models also include a heat setting for some added sensation. 
Where do I buy a vibrator?
The sources are many – but here are a few to get you started.  Amazon and Target – even Walmart - have good Sexual Wellness sections that feature lots of vibrators of all varieties.  There are also some retailers who are devoted to all things sexual like Fascinations and Adam & Eve where you can buy about anything you could possibly think of, if you're shopping for sex toys.  I'm not endorsing or suggesting, but I did add links to the brand names to help get you where you're going in a hurry.
What, exactly, do I do with my new vibrator?
This question is what they call getting down to brass tacks.  Luckily, the answer is simple.  Do what makes you feel good.  Have fun exploring and putting your vibrator in different places on different speeds.  Try all the features and experiment with lubrication and positions.  And always always remember that practice makes perfect.
I'm embarrassed for my new vibrator to come in the mail. 
Don't worry.  Your new vibrator won't come in a box with a picture of it adhered to the outside.  The packaging will be discreet and NO one will know.  Mums the word!
Does it matter what my vibrator is made of?
Yes. You put your vibrator on your skin, sometimes for extended periods of time.  So it follows that the material it's made of is muy importante.  Silicone is often used and many well-known brands use medical-grade.  Silicone is good because it transmits vibration and is non-porous – so it's easily cleaned with soap and water and it doesn't trap harmful germs.  There are other options that are also non-porous like metal, stainless steel and hard plastic.  Here, again, it's a matter of personal preference.
Absolutely do not purchase rubber toys that feel like jelly.  These can actually be harmful so avoid them altogether.
Should I use lubrication when I use my vibrator?  If yes, what kind?
There is a hard and fast rule when selecting the perfect lubrication to use with your silicone vibrator.  DON'T USE SILICONE LUBRICANT.  It sounds counterintuitive, I know, but some kind of reaction occurs when the two meet that can damage the surface of your vibrator.  So look for an oil-based or water-based lubricant.  Some of us prefer oil-based, because it lasts longer while others of us prefer to avoid the mess of oil with a water-based variety. 
I like the article that Maria Del Russo posted for MIC on May 23, 2020.  Here's the link to The 3 Best Lubes for Silicone Sex Toys:  https://www.mic.com/p/the-3-best-lubes-for-silicone-sex-toys-22627393
Not that I'm planning it, but what if I take my vibrator with me when I travel by air?
In August of 2018, the terminal at Schoenfeld International Airport in Berlin was evacuated while a bomb squad removed a reported grenade from a piece of luggage.  Except it wasn't a grenade.  You guessed it – it was a vibrator.  I don't mean to scare you away from traveling with your vibrator, I just want to make sure you're prepared.
If you want to travel with your toy without a worry in the world, pack it in your checked luggage and follow these guidelines:
Travel with a vibrator that looks like a vibrator so it's not mistaken for something else
Remove your batteries
Carry your 3.4 oz. of lubrication in your clear plastic bag
If you decide to carry on, here's the steps to follow:
Travel with a vibrator that looks like a vibrator so it's not mistaken for something else
Remove your batteries
Carry your 3.4 oz. of lubrication in your plastic bag
Follow the TSA rules and don't give them a reason to open your bag
If your bag is opened and your vibrator is discovered, hold your head high and don't sweat it. I promise it won't be the first sex toy encountered by the TSA and it won't be the last.  This possibility makes it advisable to place your vibrator in a clear plastic bag so that it remains untouched.
Don't forget to pack your batteries!
By the way, the TSA has specifically stated that sex toys are a-okay in carry-on luggage.
Will I lose sensation if I use my vibrator too much?
No.  While you may experience some desensitization after prolonged use, there's really no risk of permanent effects.  Erin Magner quoted sex and relationship coach, Myisha Battle on the subject in a piece she wrote for WELL+GOOD (March 10, 2020).
"Regular use of a vibrator will not impact a person with a vulva's ability to experience sexual pleasure.  Even if you use it every day, multiple times a day, your body will return to baseline a few minutes after each session or orgasm."
How should I take care of my vibrator?
Wash it with soap and water after every use.  Of course, read what the manufacturer suggests just in case it's different.
Should I keep my vibrator hidden from my partner?
No!  If your partner is open, bring your vibrator to bed.  You can show him your hot spots and engage in some fun play together.  He may want to show you his hot spots too!  When you're vibrator shopping, you'll notice that there are models specifically designed for couples to use together.