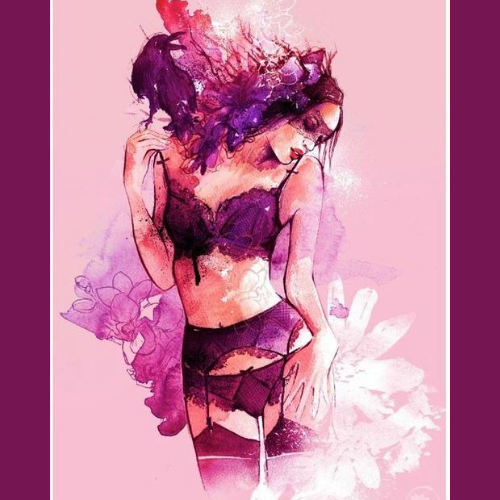 LINGERIE
A CONDENSED HISTORY
We hope you enjoy our light-hearted look at the history of lingerie –
from the corsets of the 1700s to the latest and greatest from the 21st century.
1700s
WHALEBONE CORSETS
Tiny waists & big breasts were the point of these contraptions. 
We've come so far.
1800s
S-CURVE CORSET
One word. Ouch.
1900s
SHEER NIGHTGOWNS
Believe it or not, it was all about sheer & sexy
when our great grandmothers were setting the lingerie trends.
1910s
In 1910, a closed-crotch panty signified sexual availability.
I know, but it was 1910.
1920s
SLIPS
Not as in humdrum.
As in the Flappers.
1930s
OPEN CROTCH UNDIES
Now you're talking.
By the 1930s we'd come a long way from
the thinking of the pre-Victorian era
when crotchless panties were worn simply to distinguish
them from the drawers worn by men.  BORing.
1940s
BRAS & GIRDLES
Bras in the 40s looked very much like the cone bra that Madonna wore in 1990.  And nowadays we have another name for girdles.  Shapewear.
1950s
Sheer, flowing & high-waisted – 
lingerie was all about the hourglass figure in the 50s.
Christian Dior brought it after WWII with his decadent designs - 
rounded shoulders, cinched waists & ultra-full skirts.
A new look indeed - including for what was worn underneath.
It's Italian.
Enough said.
1960s
MINIMALIST
Had it with tight waists & push-up bras.
If you need me, I'll be at the corner of Haight & Ashbury.
1970s
A REALLY BIG SECRET
Polka dots, paisley and plaids!  Yep.  It was the 70s. 
Bohemian culture influenced fashion during this decade,
but it was Victoria who really made a splash in 1977.
1980s
HIGH-CUT SILHOUETTES
Raise your hand if you're happy the high-cut
sihlouettes we wore in the 80s came down.  Me too. 
And you know that bras over tops thing?  It started in the 80s.
1990s
JUXTAPOSITION
Think animal print, lace, satin, and all things sexy –
coexisting with simple cotton briefs and soft tanks.
2000s
TOPSY TURVEY
Corsets for shirts, nighties for tops, slip dresses for formal wear
and now it's okay for your thong to show a little.
2010
PUSH UP BRAS
Although push-ups were invented in the 1940s,
they re-surged in popularity about the time that the clock struck 2010. 
And, really, every history of American lingerie should include the push up bra! 
2018
THE PLAYLETTE
Why shouldn't lingerie make you feel sexier than when you're naked?
You're welcome.
2020
THE PEIGNOIR WRAP
Now it's about you being you.
and a pinup girl
and a princess
and a movie star
and a temptress
and a . . .