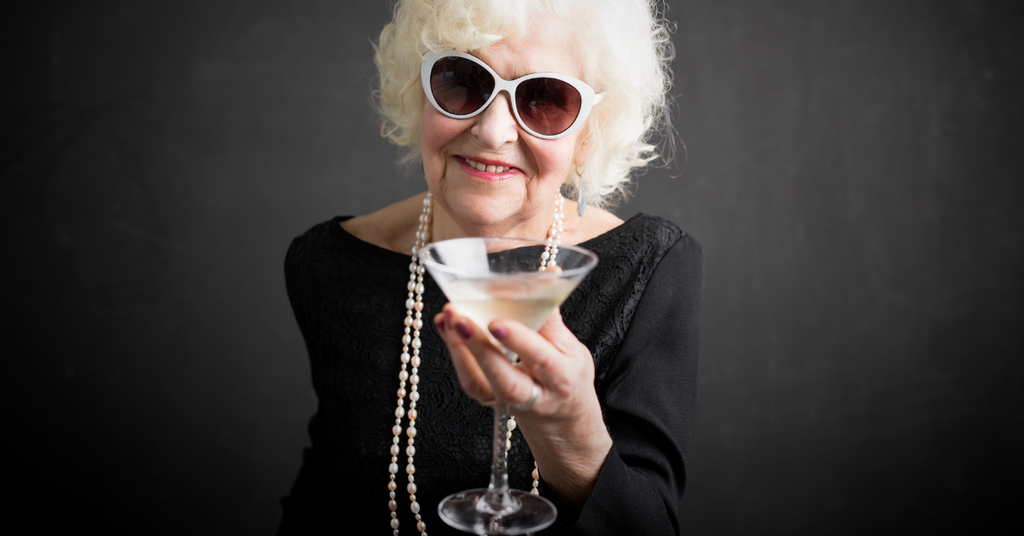 Women can be as young as 40 or well into their 60s when they become a grandmother for the first time.  AARP says that the average age is 50.  I was lucky enough to have two wonderful grandmothers.  I always thought of them as old, to be honest - it was who they were to me.  But that wasn't a negative thing – far from it, it made them special.  They both were talented in the kitchen and had a gift for telling the stories that make up the tapestry of my family's history.   I can't remember a single instance when I saw my father's mother in a pair of pants and both had short, grey hair, tightly curled and teased to perfection.  No matter how hard I try, I can't picture either of my grandmas dancing in a Zumba class.  And I don't feel nearly as old as I thought of them when they were my current age. Then again, it was a different world back then.  For one thing, life expectancy has changed since the 1960s when women, on average, lived to age 73.1  Today, the number is 82.2.  But it's more than that.  Women over 50, 60, 70 and beyond are doing more for longer than ever before. 


Which brings me to Gorgeous Grandma Day.  It was Alice Solomon's idea to designate a day to celebrate women of a certain age.  After graduating from Wellesley College at age 50, she realized that women her age and older were thought of as old grandmas beyond their expiration date – whether they were actually grandmothers or not.  She decided to challenge this long-standing stereotype with a dose of reality.  So she added an appropriately descriptive adjective to the traditional title and Gorgeous Grandma Day was born - a day to project a nontraditional image of women over 50.  The first Gorgeous Grandma Day was in 1984. 
Not your Nana's Nana
This is a short, but notable list of accomplishments by women over the age of 50.  Believe me, the list goes on.
50 – the age of Alice Solomon when she graduated from Wellesley College
51 – Julia Child began her famous PBS cooking show
60 – Flo Meiler's age when she took up track & field
64 – Diana Nyad swam the 110 miles from Cuba to Florida
65 – the age at which Flo Meiler tried pole vault for the first time
76 – Grandma Moses began painting (arthritis made embroidering impossible)
89 – Dorothy Davenhill Hirsch went to the North Pole (the oldest person ever)
92 – Gladys Burril ran a marathon in 9 hours, 53 minutes and 16 second 
And here are some interesting facts about grandmothers from National Today:
10% - percentage of grandmas who have tattoos
43% - percentage of grandparents who exercise and play sports regularly
85% - percentage of grandmothers who bake cookies
40% - percentage of grandmothers who have intercourse at least twice a week
75% - percentage of wealth in the U.S. controlled by grandparents

Gorgeous Indeed
In the context of this holiday, gorgeous is not synonymous with no wrinkles and it doesn't imply physical perfection.  It's something else altogether.  Gorgeous is knowing and accepting that wrinkles are what happens when we spend a lifetime talking and smiling and singing in the shower - with no intention of stopping.  Gorgeous is ignoring what's "age appropriate" and holding our heads high on the way to our next challenge or adventure.  It's understanding that when the people who matter look at us, they see well beyond skin deep to where our true value lives.


Celebration
If you're lucky enough to have a grandmother – or a grandmother-type person – in your life, this would be a good day to let her know what you appreciate about her.  And if you are the grandmother – or any woman over 50 – I hope you'll spend the day finding ways to celebrate all that is YOU.  
 
Happy Gorgeous Grandma Day!