Sexual Revolution Heroine, Helen Gurley Brown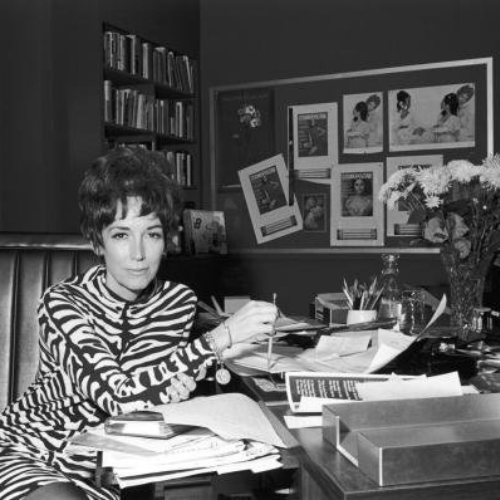 We're celebrating Women's History Month with a look back at four heroines of the Sexual Revolution.  First up is Helen Gurley Brown – the outspoken, controversial head of Cosmopolitan Magazine where she was editor until 1992.  We believe she's owed a debt of gratitude.  Read on and let us know if you agree.
--------------------
Helen Gurley Brown, by Laurie McMordie
Some say her book, Sex and the Single Girl, kicked off the Sexual Revolution.  It was a sensation when it hit the stands in 1962, but not without controversy, because Helen Gurley Brown's message was that single girls had sex and even more shocking:  they liked it.  It was a jaw-dropping assertion at the time, but Sex and the Single Girl stayed on the New York Times Bestseller List for 26 weeks and was ultimately translated into 16 languages.  That's a blockbuster by any measure.
The success of her first book (there would be more) was one of the stepping stones that led her to Cosmopolitan Magazine.  She took over as editor-in-chief on March 15, 1965, and would go on to become one of the most successful magazine editors in history.  Through the rest of the 60s and 70s, "Cosmo" was set apart from other periodicals by its open approach to sexuality – and Helen's mission to preach the gospel of sex without guilt from its pages.  She spoke to young, single women through Cosmopolitan Magazine for over 30 years - "frank discussions about sex, money, careers, apartments, fashion and beauty — oh, and men, men, men." This distinction helped Helen Gurley Brown, with no experience, to catapult the struggling, once conservative magazine to the heights of success.
Helen's rise was anything but predictable.  She had humble beginnings in the Ozarks of Arkansas and a difficult childhood that included the death of her father in a sudden, tragic accident when she was 10.  Catastrophe struck again several years later when Helen's older sister contracted polio.  But Helen used her challenges to push herself.  She wrote, "If you have some daily anguish from some cause that's not really your fault – a rotten family, bad health, nowhere looks, serious money problems, nobody to help you, minority background . . ., rejoice!  These are your fuel!"
The legacy of Helen Gurley Brown is complicated.  I like the way Moira Weigel described Helen's message in an article she wrote for The New York Times.  "She offered a blueprint for success in a sexist world, telling readers how to game a system that was set up to exploit them."  Also, Helen believed that sex appeal was directly linked to success.  So a clash or two with the feminists of the day was inevitable.  During the 1960s, Helen was actually accused of being an "instrument of the oppressor" and her magazine was boycotted for being degrading to women.  Of course, she didn't see it that way.  She countered that her message of self-help was also feminism and continued to propagate it through her magazine until 1997.
I think Jennifer Scanlon makes a good point about Helen's legacy at Cosmopolitan Magazine in her book "Bad Girls Go Everywhere".  "Cosmopolitan may have been crass, but it also disseminated feminist messages to a working-class audience whom the canonical front of the women's movement didn't reach."
Many of us who remember Helen Gurley Brown have an opinion – we either remember her in a positive light or not so much.  After all, she was an outspoken and controversial woman with imperfections that were spotlighted by her fame.  But it is undeniable that she changed the way we think about sex and popularized the notion that we should enjoy it without guilt – even single girls!  I believe she's owed a collective thank you for that and a special place in history as a heroine of the Sexual Revolution.
Helen Gurley Brown died in 2012 at the age of 90. 
--------------------
Article written by Laurie McMordie, Co-Owner/Designer Activ Intimates