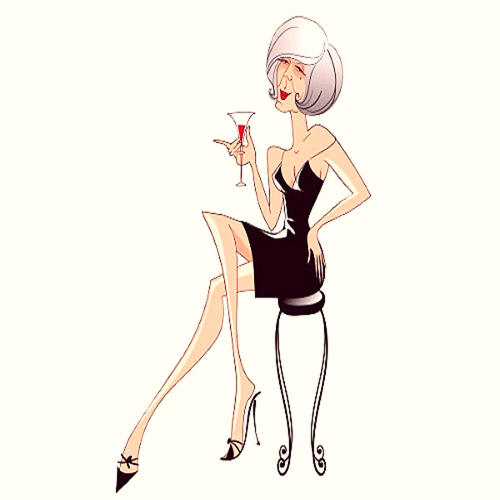 We love this article from the Healthy Women Online Newsletter.  It poses an interesting question -- does sexy have an expiration date?
http://www.healthywomen.org/content/article/feeling-sexy-any-age
Feeling Sexy at Any Age
by Elizabeth Battaglino, RN, Cofounder and Women's Health Expert

Driver's licenses, passports, credit cards: Lots of things have expiration dates.

It might be annoying to remember to renew them and hard to find the time to do it, but there is a bright side, I suppose. Those expiration dates remind us why we need them and what they do for us and let us reassess if they're important enough to continue to have them in our lives.

The same goes for feeling sexy. Does it have an expiration date? And if it does, how do we go about renewing it?

"Does Sexy Have an Expiration Date?" was the theme for a fun evening I participated in at the Hungarian Consulate in New York City that sought to answer that question. It was sponsored by The Three Tomatoes, a group founded by Cheryl Benton to celebrate "women who aren't kids," and Anne Akers, founder and editor-in-chief of Glow Beauty, health and wellness magazine. 
And the answer was a resounding no.

Feeling sexy doesn't have to expire.

Feeling sexy can go on for a long, long time.

In addition to the panel on which I participated, this event included a fabulous raffle to benefit The Hunger Project, whose mission is to end hunger and poverty by pioneering sustainable, grassroots, women-centered strategies and advocating for their widespread adoption in countries throughout the world. You can bet I purchased tickets, and although I didn't win anything, the discussions that night reminded me to think positively. Instead of telling myself, "I never, ever win anything," I will feel empowered by reminding myself, "I am a winner."

That was the message delivered by our panel: Empower yourself. Give yourself positive, affirming messages. Learn how to take control.

I opened the discussion with findings from our recent survey, "Are You Happy About Your Sex Life?" In that survey, 60 percent of women reported that their sex lives could be better, and 15 percent couldn't even remember the last time they had sex.

Other experts weighed in on the topic, including: psychotherapist Beatty Cohan; women's health physical therapist Dr. Denise Jagroo; fashion designer Gabrielle Carlson; image consultant Carol Davidson; makeup artist Richard Grandinetti; founder of Sex and Medicine Summit Anita Teresa Boeninger;  and board-certified physician and founder of Anand Medical Spa Sunanda Chugh.

To me, it's inspiring to spend an evening with like-minded women and people eager to share their experiences, opinions and expertise.

Some highlights:
You don't have to have sex to feel sexy.
Women need emotional foreplay.
There's a lack of connection to sexuality in the medical professional community; women need to initiate the conversation with their health care providers.
The best way to keep our pelvic muscles healthy is to have lots of sex (and  practice Kegels or other pelvic exercises).
Pain during intercourse is not OK and can be attributed to many different reasons, including vaginal dryness or even an allergy to your partner.
Sexual health has an effect on our health in general.
As we age, our lips naturally thin. That's why we shouldn't wear dark lip colors (think about how dark clothing slims your body; the same goes for dark colors on your lips).
When choosing a wardrobe, find a shape that highlights your best features and a style that represents you today.
Beauty starts with wellness from within—it's important to take a holistic approach. Sleep and stress can wreak havoc on your skin and accelerate the aging process.