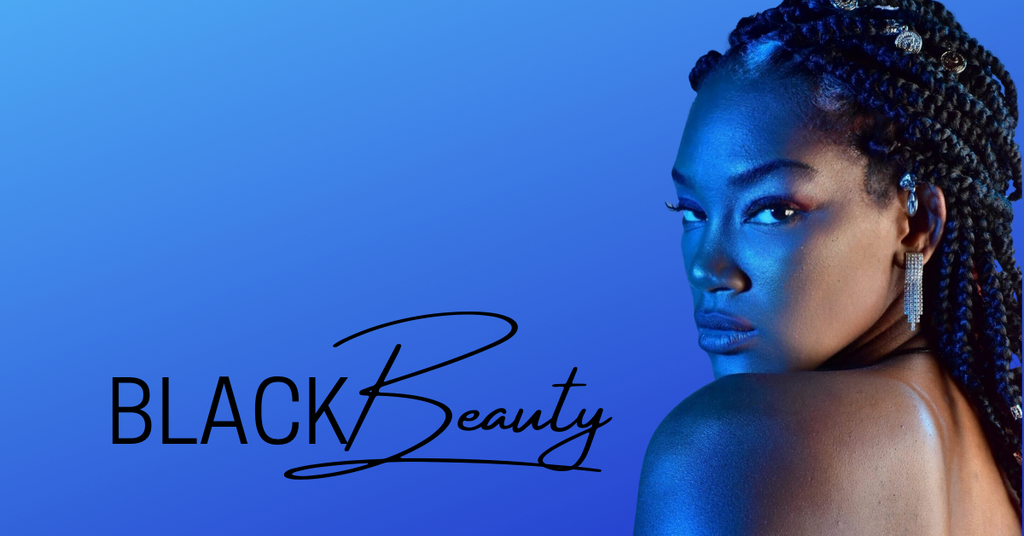 Historically, styling Black hair has not been considered essential learning at America's large beauty schools.  This means that in many hair salons across this country, you're out of luck if you're Black and looking for basic hair care services, not to mention cornrows, twists, braids, Bantu knots, fades, or Afros.  Think about what that means for a moment, then ask yourself this question.  Would a White woman ever consider the possibility of being turned away from a professional hair salon because none of the stylists know how to care for her hair?  This white woman certainly wouldn't.  In fact, that thought has never crossed my mind, because the industry has been developed for women of European descent like me.
"I went into the hair industry to boost people's confidence and make them feel good. Prejudiced ideas about hair can keep Black people from advancing at work or school. This can color how they feel about their appearance starting at a young age. It's pervasive in our culture." – Tammy Jolivette, Ph.D.
But the issue goes deeper than hair care.  African Americans have been subjected to hair discrimination since their ancestors were first brought to America.  Here's some recent examples.
In Massachusetts twin sisters Mya and Deana Cook, were given detention when school officials determined that their braids violated school policy.  This happened in 2017.


In 2018, 6-year old Clinton Stanley Jr., a 6-year-old student, was sent home from the Book's Christian Academy in Florida, because he wore his hair in dreadlocks.


Again in 2018, officials at Christ the King middle school in Terrytown, Louisiana expelled a Black student from the school because her "extensions" (braids) were unacceptable under their school code.


In December 2018, a Black teenager from New Jersey was made to cut his dreadlocks by a white referee to continue participating in his school's wrestling match.  Many of us saw this on television.


DeAndre Arnold started growing dreadlocks when he was in the seventh grade.  However, in January 2020, when he was 18, he was suspended from Barbers Hill High School in Mont Belvieu, Texas for wearing the same dreadlocks.


DeAndre Arnold's cousin, Kaden Bradford, was suspended from the same school when he was 16 years old for the same reason.
It was 2021, when a four-year-old boy living in Chicago violated the policy of his private school by wearing his hair in braids.  Specifically, he was violating a policy that bans braids, locs, twists and other natural hairstyles on male students.  Again, he was four.


This year, Nicole Pyles, a 16-year-old Black softball player in North Carolina, was told by an umpire to remove beads in her hair to continue playing. Her teammates tried to help, but the beads were wound tightly in her braided hair.  So, they cut pieces of her hair in order to remove them.
Taking a Toll
The Dove company conducted a research study in 2021 to investigate the effect of hair discrimination suffered by Black girls as young as five years old.  Here's some of what the study found:

53% of Black mothers, whose daughters have experienced hair discrimination, say their daughters have experienced race-based hair discrimination as early as 5 years old.


86% of Black teens who experience discrimination state they have experienced discrimination based on their hair by the age of 12.


100% of Black elementary school girls in majority-white schools who report experiencing hair bias and discrimination state they experienced the discrimination by age 10.
Sadly, the study also found that 80% of African American women felt they needed to change their hairstyle to align with more conservative standards in order to fit in at work.
"When people of color are rejected from salons or criticized because of the natural texture of our hair, it affects how we feel about ourselves."
– Tammy Jolivette, Ph.D.

A Sad History
Hair discrimination against Black women has been a part of our culture since slave traders routinely shaved the heads of African women.  Of course, this robbed enslaved people of their identity and their culture – as intended.  Discrimination continued after slavery ended.  A good example is the Louisiana Tignon (tiyon) Law from the early 1800s.  The purpose of this legislation was to legally force Creole women to cover their hair with tignons (a headdress or scarf).  The action was taken to discourage White men from carrying on with Creole women who were perceived to pose a threat due to their beauty and, in some instances, their prosperity.  It was meant to keep them in their place.
The Civil Rights Act of 1964 prohibits discrimination on the basis of race, color, religion, sex, or national origin.  But it hasn't saved Black people from experiencing blatant forms of hair discrimination.  In fact, the 11th U.S. Circuit Court of Appeals effectively ruled that it's legal to refuse employment to people wearing dreadlocks – in 2017.
Moving in the Right Direction
Thankfully, there's a movement that's making progress and gaining momentum.  The CROWN Coalition, an alliance of companies including Dove, National Urban League, Color of Change, and Western Center on Law and Poverty is dedicated to the advancement of anti-discrimination legislation.  The Coalition sponsored the CROWNE Act in California - it was signed in July of 2019.
Creating a Respectful and Open World for Natural Hair (CROWN)
The CROWN Act was created to prohibit race-based hair discrimination.  Specifically, the Act prohibits the denial of employment and educational opportunities because of hair texture or protective hairstyles including braids, locs, twists, or bantu knots.
"The history of our nation is riddled with laws and societal norms that equated "Blackness," and the associated physical traits, for example, dark skin, kinky and curly hair to a badge of inferiority, sometimes subject to separate and unequal treatment." 
– from the CROWNE Act
California was first to enact the CROWN Act in July of 2019.  Eleven states have followed:
New York (July 12, 2019)
New Jersey (December 19, 2019)
Virginia (March 3, 2020)
Colorado (March 6, 2020)
Washington (March 19, 2020)
Maryland (May 8, 2020)
Connecticut (March 4, 2021)
New Mexico (April 5, 2021)
Delaware (April 13, 2021)
Nebraska (May 5, 2021)
Oregon (June 2, 2021)
"In a society in which hair has historically been one of many determining factors of a person's race, and whether they were a second-class citizen, hair today remains a proxy for race. Therefore, hair discrimination targeting hairstyles associated with race is racial discrimination."
– from the CROWNE Act
Unfortunately, the list of states who tried and failed to pass the CROWN Act is longer:
Utah
Arizona
South Dakota
Kansas
Oklahoma
Texas
Minnesota
Iowa
Missouri (*The CROWN Act is law in Kansas City and St. Louis)
Arkansas
Louisiana (*The CROWN Act is law in New Orleans and Shreveport)
Indiana
Kentucky (*The CROWN Act is law in Covington and Louisville)
Tennessee
Mississippi
Louisiana
Georgia
Florida
South Carolina
West Virginia (*The CROWN Act is law in Beckley, Charleston, Lewisburg, and Morgantown)
Vermont
Maine
Looking Forward
As of June 2022, you'll need to know how to cut textured hair in order to get your Louisiana cosmetology license.  In this context, "textured" means hair that is "kinky, curly, or wavy in its natural state."  Currently, Louisiana is the only state in the union with this requirement, but it's a start and others will likely follow, if Aveda has anything to say about it.  They're looking to change licensing requirements to include Black hair care in over 20 states.
It's been close to 60 years since the Civil Rights Act was enacted, so to say we've been slow to put a stop to hair discrimination against Black people in this country is an understatement. But we don't have to allow it to continue. Here are some ways to help put an end to hair discrimination in the workplace and public schools from Olivia Hancock at Byrdie.
Join The CROWN Coalition: The CROWN Coalition consists of advocacy and non-governmental organizations that seek to end hair bias and discrimination in the United States. If your organization is interested in joining the coalition, you can find more information on The CROWN Act's website.


Sign a petition: The CROWN Coalition has created a petition to help end hair discrimination in the workplace and schools. The campaign currently has nearly 250K signatures and its goal is to reach 500,000. You can sign here. 


Introduce The CROWN Act To Your State: If you want to introduce The CROWN Act to your state legislators, visit their website for examples on how to draft your legislative language. You can also contact a member of The CROWN Act team for more information on how they can support your efforts to bring the legislation to your state.
SOURCES:
MSN.COM/OPRAH DAILY, The Black Beauty Archives Are Preserving an Important Piece of Black History, Niko Maragos, February 1, 2022
Library of Congress, Black Beauty: a Brief History of the African American Beauty Industry, Ellen Terrell, September 28, 2020
NPR, Louisiana will now test stylists on their ability to cut textured hair, Ambriehl Crutchfield, PODCAST, December 27, 2021
American Bar Association, Is Hair Discrimination Race Discrimination?, D. Sharmin Arefin, April 17, 2020
Bazaar, In Hair Salons, Racial Segregation Never Really Ended, Anonymous, Works I a white hair salon that does not do black hair care, June 11, 2020
Walden University, Getting To the Root of Hair Discrimination, Staff, February 15, 2021
FACE2FACE Africa, Tignon Laws:  The dreadful rule that banned black women from displaying their hair, Farida Dawkins, February 5, 2018
Byrdie, Everything You Need To Know About the CROWN Act, Olivia Hancock, January 5, 2022
CNN, Legislation banning hair bias gains momentum in more states as schools and sports leagues face backlash for policies, Nicquel Terry Ellis, May 20, 2021