Sexy Summer Foods with Chef Amber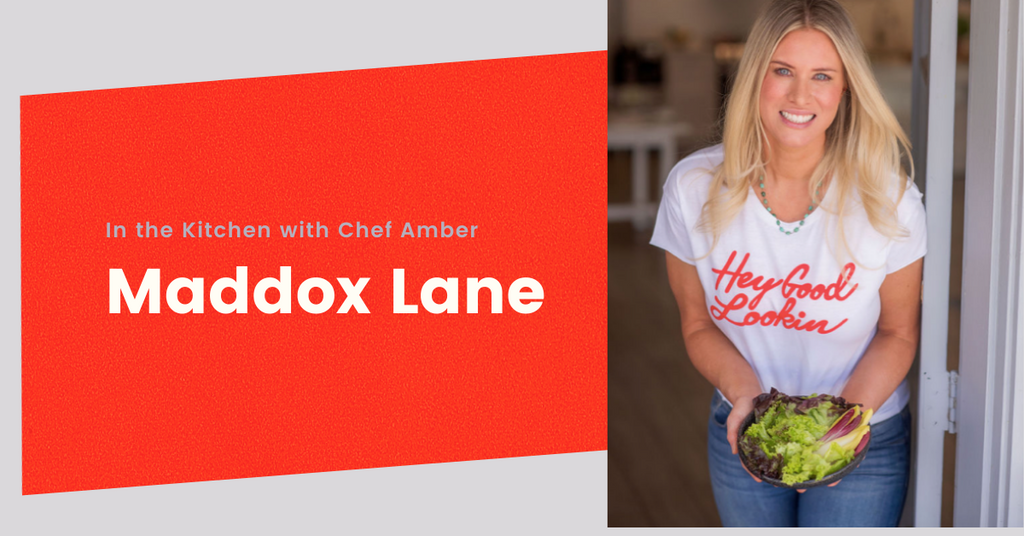 Thanks to Chef Amber Wilson from Maddox Lane, we now know what heaven tastes like; the summer recipes she shared during our Activ Live are just what your taste buds need this season!
First course, Chilled Summer Soup. This avocado-based soup is so fresh & tasty and even more delicious topped with Amber's Summer Corn, Peach & Basil Salsa.  Next we learned how to make Amber's "This is EVERYTHING" sauce.  It's truly so versatile, think veggie dip, salad dressing and your favorite summer go-to marinade.  And for dessert, a sweet & zesty Mango Granita.  We topped it off with champagne and it was perfection!
Amber kindly provided us with all three recipes, including directions! Just break out your apron and enjoy!
Maddox Lane Summertime Mango Granita

Makes 6 servings
Ingredients:
1 pound ripe mango, sliced
2 T. maple syrup or honey
½ cup water 
1 tsp. lime zest & juice of 1 lime
1 tiny pinch salt 
Directions:
Transfer mango to a blender and add syrup or honey, water, lime zest & juice, and tiny pinch of salt.

Blend until smooth in high powered blender, about 1 minute. Pour into a 

baking dish of your choice (a 9x13 size is perfect or divide between two smaller size dishes). Mango mix should only be a little less than an inch deep in the dish.

Place dish uncovered in the freezer until mixture barely begins to freeze 

around the edges, about 50-60 minutes. Mixture will most likely still be slushy in the center.

Use a fork to scrape and stir the ice crystals from the edge of the granita 

mixture and mix thoroughly. Return to freezer and chill until granita is nearly frozen, about 45-60 more minutes. Mix lightly with a fork as before scraping the crystals loose. Repeat freezing and stirring with the fork 3 to 4 times until the granita is light, crystals are separate, and granita looks dry and fluffy.

Portion granita into serving bowls, martini glasses or glass of your choice.

Optional to finish with a drizzle of coconut milk or a splash of sparkling 

wine or even a shot of tequila for a boozy dessert.
*Can also be made with watermelon, pineapple, strawberry, or peach!
Maddox Lane Cucumber, Avocado & Herb Zuppa Fresca with Peach & Corn Salsa

Makes 3-4 servings
Ingredients:
1 large cucumber, peeled and deseeded
1 large avocado, deseeded
1 tsp. seasoned herbed salt or sea salt
¼ cup filtered water
2 T. high quality extra virgin olive oil
1 T. pineapple or apple vinegar (optional, can also use an apple cider or white
vinegar)
½ bunch fresh basil
½ bunch fresh cilantro (can also use parsley)
1-2 cloves garlic, smashed
1/4 cup green onions or shallots, chopped
Directions:
Add ingredients to blender and blend until smooth.

Peach & Corn Salsa (this is also great as a salad)
Ingredients:
Fresh basil, chiffonade
2 peaches, cleaned, deseeded & small diced
2 cobs of fresh corn grill & cut off cob
Drizzle olive oil & squeeze of fresh citrus (lemon or lime)
Directions:
Toss and garnish zuppa fresca with the peach and corn salsa
Maddox Lane "This is EVERYTHING" Sauce/Marinade/Dressing
Ingredients:
1 large jalapeño, de-seeded & diced 
1 small shallot, diced *can sub with white or red onion 
2 cloves garlic, crushed 
2 anchovies *can sub with splash Worcestershire sauce 
1 T. capers *can sub with handful castelvetrano olives 
1 bunch fresh cilantro *can sub with fresh basil, mint, or additional parsley
½ bunch fresh parsley *can sub with fresh arugula
Handful fresh basil (optional)
Squeeze of lemon *can sub with splash or apple cider or red wine vinegar
Generous pinch sea salt
1/3 cup olive oil (use ½ cup olive oil if you intend to use as a salad dressing)
Directions:
Add all ingredients to a food processor or blender and blend until smooth. For a
chunkier sauce, pulse in food processor instead of a full blend.
*For dipping sauce add 1 cup full fat Greek yogurt 
*For salad dressing add additional 1 T. lemon juice and ¼ cup extra virgin olive oil
*For marinade or as a finish for vegetables, use recipe as is
Follow Amber on Instagram @maddoxlaneaz