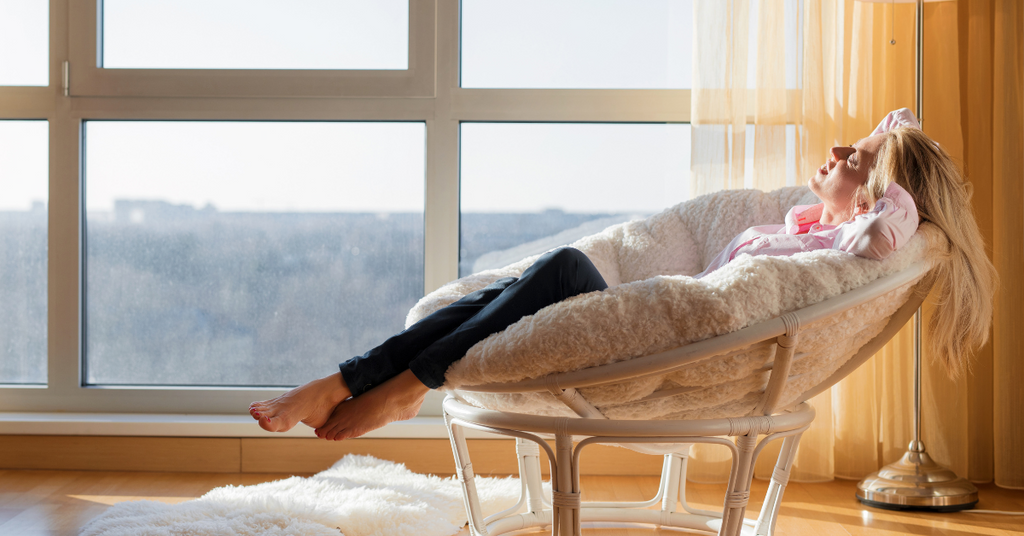 Pamper myself?  Yeah, right.  Sounds great, but who has the time? 
Many of us bristle at the thought of treating ourselves to what Merriam-Webster defines as "extreme or excessive care and attention."  Perish the thought! 
So let's look at it another way.  Let's view pampering through the lens of self-care and see if it sounds like something we should consider.  Especially when we think of it as the part of self-care that addresses stress.

We all know that too much stress is bad for us.  It can affect our physical and mental health in significant ways and even lead to illness.  So having the tools to combat the consequences of stress is important, to say the least.  Learning to pamper yourself can be a powerful way to prioritize your health.  Don't worry, I won't suggest any scenarios that involve eating bon bons.
Rest is the antidote to stress, no doubt.  But all resting (aka pampering) does not look the same.  What works for you may not work for me and vice versa.  Fortunately, there are many choices.  Of course, there's the ever-popular yoga and meditation - great if that's your thing - but certainly not the only way to unwind your body and mind to a healthier state of stress.  Whether you have an entire day or you're seeking balance in much shorter increments, there are many ways to pamper yourself for some much-needed respite from the stress of daily life.    
Here are a few ideas.


Add Some Pamper Power to Your Bath
There are few things in life more relaxing than soaking in a hot tub.  It's an excellent way to leave the realities of life behind for a while and feel truly pampered.  Add a few drops of essential oil to the water and experience some serious stress relief.  Certain essential oils are known as effective stress reducers.  Of course lavender and chamomile, but have you ever heard of these?
Bergamot – inhale for a soothing effect while it reduces heart rate and cortisol levels
Frankincense – a natural anti-depressant that can provide relief from anxiety
Neroli – like Bergamot, this essential oil has a calming effect when inhaled
Patchouli – known to calm the 'fight or flight' response and deliver a sedating effect
Ylang Ylang – reported to promote calm




Two Words:  Mani/Pedi
Whether you DIY or make an appointment at your favorite salon, manicures and pedicures are an excellent way to lose yourself in luxury.  Choose a color that makes you smile and enjoy the benefits long after the polish has dried.

Listen To Your Favorite Songs
Nothing has more power to transport us and lift our spirits than music.  And if you can't keep your feet still, all the better.  Use your favorite tunes to take you to your happy place.

Binge Watch Television
Have you ever spent an afternoon binge-watching a television series or movie, while simultaneously feeling guilt and shame for being lazy, irresponsible, etc.?  Me too.  But that's not what they mean when they tell us to relax.  Any relief that we might have felt from unplugging and relaxing is diluted when we cling to negative feelings about rest.  So, tune in to your favorite guilty pleasure and tune out from stress for 30 minutes, an hour, the afternoon, or an entire day - whatever works for you.


Cook Up Some Deliciousness
Creating in the kitchen can be both relaxing and uplifting – especially with no time constraints and a glass of wine.  Or if cooking isn't your thing, order take-out from your favorite restaurant – and drink the glass of wine while you're waiting for your food to be delivered.
Shop Until You Drop
Maybe you're window shopping or maybe you have some money burning a hole in your pocket.  Either way, "shopping" online in your sweats or PJs can definitely help you escape the grind and maybe even lower your cortisol level.

Dance Like No One Is Watching
Didn't I see you in Dirty Dancing?  I thought that was you.  This is your time to forget real life and show them that no one puts Baby in a corner.  Movement is known to help with managing stress.  It's actually essential, so kick up your heels and dance.  It' okay, no one is watching.


Take A Trip Without Leaving Home
You can be anywhere in the world in a matter of moments – just choose a book that will take you where you want to go.  Nowadays, entire libraries are literally at your fingertips. 

Indulge Yourself in Self-Pleasure
Yes.  That kind of self-pleasure.  It's simply one of the most powerful stress reducers at our disposal. Hopefully, it's already a part of your wellness routine.  But make it special when it's time to pamper yourself.  Lower the lights, add music, scent the room, take longer, try new things - use your imagination and forget about everything for as long as your schedule allows,
Celebrate the Tradition of Siesta
There's a reason that the people of Spain still honor their tradition of napping in the early afternoon.  Not only is the practice rejuvenating, it also makes a strong statement about self-care. Napping, no matter the time of day, can make us feel pampered - refreshed and ready for the rest of the day.  Gracias to Spain for this healthy tradition!



There are many ways to pamper ourselves - many more than mentioned here,  The point is to build whatever it is into your schedule as part of your self-care routine.  Whether you have an hour or a weekend, use the time to detach from stress and give your body and mind what they need to keep you healthy and happy.